Visual Indicator of an ExtendedSSL Certificate in Use
Extended Validation SSL certificates provide the highest level of trust and assurance over standard SSL certificates. When visitors visit a webpage protected by an Extended SSL certificate the address bar turns green and your organization name is displayed in the browser interface.
Furthermore, by clicking on the green bar/pad lock you can view the certificate and the certificate details.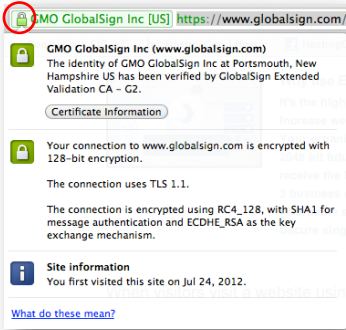 Additional Resources:
See How ExtendedSSL Looks in Different Browsers: https://www.globalsign.com/ssl/ev-ssl/