Digitally Signing Email Messages in Microsoft Outlook 2007



The first step to securing your email messages is to sign them using your digital certificate.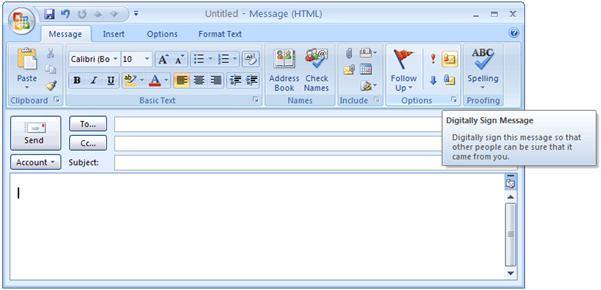 In the Message ribbon under the Options section you will see two mail security icons. The first is the signing icon. Selecting this will sign your email with the certificate of your choice. The second is the encrypting icon. Selecting it will encrypt your email.
Note: You will need the public key of your recipient before you can encrypt your email.



Your digital signature enables the recipient of your message to verify that you actually sent the message. It also guarantees the message was not altered en route. Signing your email will also give your recipient your public key. This will allow your recipient to send you encrypted emails in the future.

Signing a message does not automatically encrypt the message or prevent it from being intercepted. To ensure that only the recipient can read a message you must be sure to encrypt the message by exchanging public keys with the recipient and clicking the encrypting icon.

If the recipient of your signed message uses an S/MIME–enabled email package he or she can still read your message. In this case, however. your digital signature will show up as an attachment. The signed icon shows that the received message was signed.



The untrusted signature icon shows that the received message was signed by a certificate which was issued by a CA which you do not trust yet. This is either because you have not installed the CA's root certificate or it has been revoked. This icon looks like:



You can sign your messages each time you want to sign an email or you can configure your security settings (as described previously) to automatically sign using a specific certificate.