Video Verification Process
Sep 7, 2023
Video Verification Process
Verification Process Explained
When you order a Certificate from us, we make sure that the information in the Certificate is complete and correct. This allows other users on the internet to rely on your Certificate and protects you against impersonation.
When you order a Certificate that includes your own name, we verify your identity. GlobalSign offers Video Verification as a convenient way to check your identity.
What is Video Verification?
Video Verification is a free process that allows GlobalSign to check your identity so we can issue your Certificate. During the video verification call, we perform various checks: first, we check the presented Identity Document against our internal database to make sure that the document is authentic and that it has not been changed or damaged in any way. Secondly, we make sure that you are the rightful holder of the Identity Document, and we confirm that we have your approval to proceed with the issuance of the Certificate.
Alternatively, GlobalSign can rely on legal professionals to perform the identity verification on our behalf. This alternative process requires customers to find a legal professional who is qualified and willing to conduct the identity verification, potentially causing additional delays and costs.
Why video verification?
At GlobalSign, we like to make things easy for our customers. Video Verification allows us to check your information in a convenient way.
Here are just a few benefits of this process: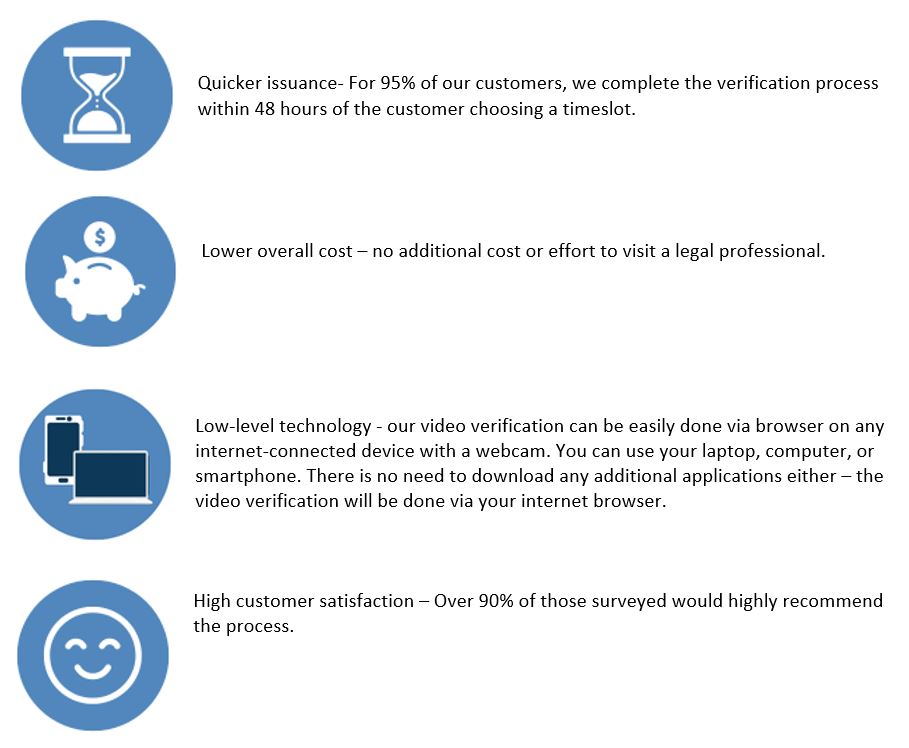 What can you expect during the call?
Our friendly video verification experts will need about 10 minutes to guide you through the process in English.
You will be asked to show your documents in a way that allows our Video Verification Agent to check your identity document (to make sure it is authentic and not forged or changed). We must be able to confirm that the video feed is live (and not pre-recorded) and that you are the rightful owner of the document (you're not holding someone else's document).
Don't worry if English isn't your first language. We understand it can be a bit intimidating; as a global company, many of our colleagues are not native English speakers either. Our Video Verification Agents may not speak your language, but they will do their best to make things clear for you. This may include providing written instructions in your native language, where available. We support many different languages, so please reach out to check if we can support yours.
If you want, you're welcome to bring someone to the call to help you during the call.
Products for which we use video verification
Not all of our Certificates require verification of the person who requested them. In general, we use video verification for Document Signing Certificates (AATL Adobe Approved Trust List), PersonalSign 3 Pro Certificates, and PersonalSign 2 Pro Certificates. In some cases, we will also offer video verification for other products, including but not limited to Extended Validation CodeSigning Certificates.
You won't have to worry about requesting video verification; we will send an invite if it is needed.
Where do we offer video verification?
We are ready to support our customers in Europe, the Middle East, Africa, and the Americas. Don't worry if you're not based in one of these regions; this does not mean that we won't be able to support you. It just means that we may need a bit more time to prepare for the video call. Please reach out to us, and we're happy to check if we can accommodate your request. If we can't, we will discuss alternative options.
What does the process look like?
We understand that this process can seem overwhelming. Rest assured, it's as easy as 1-2-3! A GlobalSign Video Verification Agent will assist you during the call. They have many years of experience helping customers just like you.

First, you will receive an invite. This invite will be sent to the email address that you specified during the order. The invite will contain a link and an overview of the process.

To book a call, simply click the link in the invite. This will open a page with all available 15-minute time slots. Simply choose an option that works with your schedule. Has your schedule changed? You can re-book your video verification call at any point in time.

At the time and date of your appointment, just click the link in your appointment, and you will be connected to our Video Verification Agent. You don't need to download a separate application; you can simply join via your browser. Make sure to join on time, or you may need to reschedule your call, which may delay your verification.

The Video Verification call itself generally doesn't take longer than 10 minutes. Our Video Verification Agent will give you instructions in English. Instructions will include asking you certain security questions, asking you to move the document in certain ways, and asking you to perform certain movements. All of this will allow us to make sure that the document is real, that the video is live, and that you are the person mentioned in the document.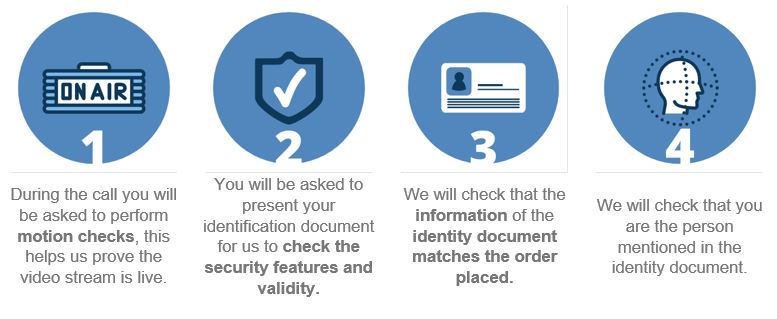 After this, we will perform some additional internal checks, we will let you know the outcome of these. Once the Certificate is issued, you will receive a notification from our system with instructions on how to pick-up and install the Certificate.
Please note that if your Certificate also includes organization information, this information will also have to be checked. Only when both your individual and organization identity are verified will we issue your Certificate.
How to prepare for the call?
In order for the call to go smoothly, we ask you to consider the following:
Please make sure that your internet connection is strong and stable.
Please make sure that your camera and microphone are working.
Please make sure you are calling us from a place with good lighting and ideally, from a quiet place.
What kind of documents do I need to bring?
We ask you to bring a valid identity document issued by a relevant government authority.
We only accept the original document; please don't bring a photocopy, as we won't be able to accept it. The document must be valid, clear, readable, and undamaged.
GlobalSign accepts different documents based on your country or state. You can contact us to check if we currently support your documents. Simply reply to the invite. Some examples of documents we accept: passports, identity cards, and photographic drivers licenses.
FAQs
I am unable to make the original appointment. Can I re-schedule?
We understand that sometimes life gets in the way. When this happens, you're always able to reschedule your video verification call via the link sent to you in our invite. Our Video Verification Agents will be ready to help you when you are!
How is the information collected during the call used?
We understand your information is important to you, and we keep it safe. As with any validation information, as a Certificate Authority, we are required to retain proof that we have performed the validation for all the Certificates that we issue. The video call will be recorded and saved in our secure database, along with screenshots of your passport. This information will only be used for verification purposes, and any unnecessary details from your passport will be obscured. Your personal information is retained securely in line with our data retention policy, which you can find in full here: https://www.globalsign.com/en/repository/GlobalSign-Privacy-Policy.pdf.
More information will be available at the bottom of the invitation that we send you.
How long does the process take?
We help 95% of our customers within 48 hours of booking the call, and the call itself generally does not take longer than 10 minutes.
What documents do you support?
In general, we require a government-issued identity document that includes your photo. This could be your passport, an identity card, or a photographic driver's license. Unfortunately, we cannot accept all documents. Some documents are easy to forge (fake), and we cannot accept those as part of our video verification process. This is to protect you, our customer, from becoming a victim of impersonation.
If you are unsure if we can accept your document, please don't hesitate to respond to your email invite with a copy of your document. We will be able to tell you if we can accept it (and provide alternative suggestions if we can't!).
Do I need to download an app?
No, we support our customers using the browser of their choice.
What if the video verification is unsuccessful?
If we cannot complete the video verification successfully, we will ask you to visit a legal professional for in-person identity validation or offer alternative options depending on where you are based.
Do I have to do this video verification process again when I renew my Certificate?
No matter how easy we make the video verification process, this is still an additional task. We therefore try to reuse video verification for multiple orders. If your document is valid, we can re-use the video verification for up to 825 days after the initial collection. After this period, we will need to speak to you again.
What languages does GlobalSign support?
At this time, our expert Video Verification Agents are available to help you in English. If English is not your first language, you can bring a trusted companion to the call in order to assist you with any issues you may face. We also provide written instructions in many different languages. Please don't hesitate to contact us to discuss.
Can I bring someone along on the call?
You're welcome to bring a trusted companion to the call in order to assist you with any issues you may face.