How to set up Safenet Driver for VBA Signature with Token-based Certificate
Jan 31, 2023
How to set up Safenet Driver for VBA Signature with Token-based Certificate
Introduction
This support article will guide you through the step-by-step process of setting up Safenet Driver for VBA Signature with Token-based Certificate.
If this is not the solution you are looking for, please search for your solution in the search bar above.
Step-by-Step Guidelines
By default, the driver will reject hash algorithm used by VBA, you will then encounter the following error when saving the file: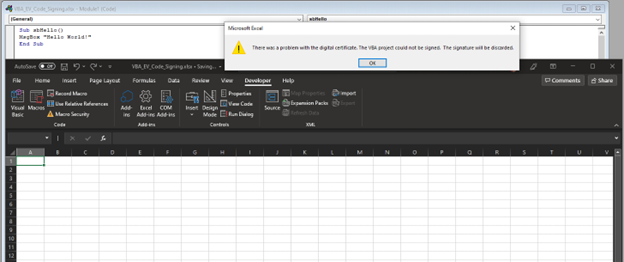 To address this, you need to follow the steps below:

Open Windows Registry Editor (Regedit).
Go to the path [HKEY_LOCAL_MACHINE\SOFTWARE\SafeNet\Authentication\SAC\].


Right click on the SAC folder.
Add a new key and name it [Crypto].


Right click on [Crypto].
Add new string value: Name "Disable-Crypto" - Value "None"


Restart your computer for the registry changes to take effect.
Try to save the file again, you will be prompted for the token password. Input your password and your VBA macro is now signed.