Install Active-X Driver - Windows Using Internet Explorer
Install Active-X Driver - Windows Using Internet Explorer
Installing the Active-X Driver in Windows Using Internet Explorer

If using Windows and Internet Explorer a yellow bar will appear at the top of your screen during your online certificate request.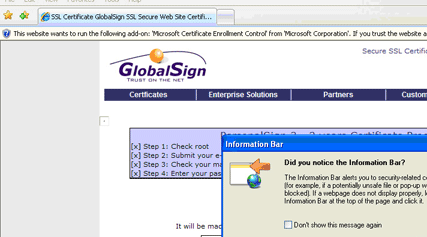 Click on the yellow bar and install the Active-X driver as prompted. The installation will only take a few moments and will ensure the certificate request is made on your browser. If Active-X driver has not been installed, the required box labelled "Cryptographic Service Provider" will not be available for selection.

If the Active-X Driver has been properly installed, the Cryptographic Service Provider box should appear as in the image below. If it does not appear as shown below, the Active-X Driver has not been properly installed.