How to Renew Your Client Digital Certificate (Document, Code & Email Signing)
Aug 5, 2020
Renewing Your Client Digital Certificate

Article Purpose: This article provides step-by-step instructions for renewing a client digital certificate, such as a code signing, PersonalSign, or PDF signing certificate. If this is not the solution you are looking for, please search for your solution in the search bar above.

To start the Renewal Process log into your GlobalSign Certificate Center (GCC) account. Once you have logged into your account please follow the instructions below:
Make sure the Document, Code & Email Signing (Code Signing, PersonalSign, PDF Signing for Adobe CDS) tab is selected.
In the left-hand menu click Search Order History.
Click Search to display all of your client digital certificates.

Click Renew next to the certificate you are looking to renew.

The process will now walk you through the purchasing of a new certificate. Start by selecting the certificate type of the certificate you are renewing. Note: In this example a code signing certificate is being renewed.

Select the product type and click Next.

Complete the Product Details including the desired validity period, any campaign or coupon codes you have to use, and the appropriate key generation options. Click Next.

Provide the Certificate Identity Details.

Create your temporary Pickup Password. Please make sure to retain this password as you will need it later on in the installation process. If you forget this password you will need to resubmit your order.
Click Next.
Confirm the Order Details and accept the Subscriber Agreement.
Click Next.
As mentioned you will need to respond to the approval email you will receive after completing the order. If no approval email is provided or an inaccessible approval email address is provided the email may not be received. Please make sure to enter an address and double check the address on your GCC account.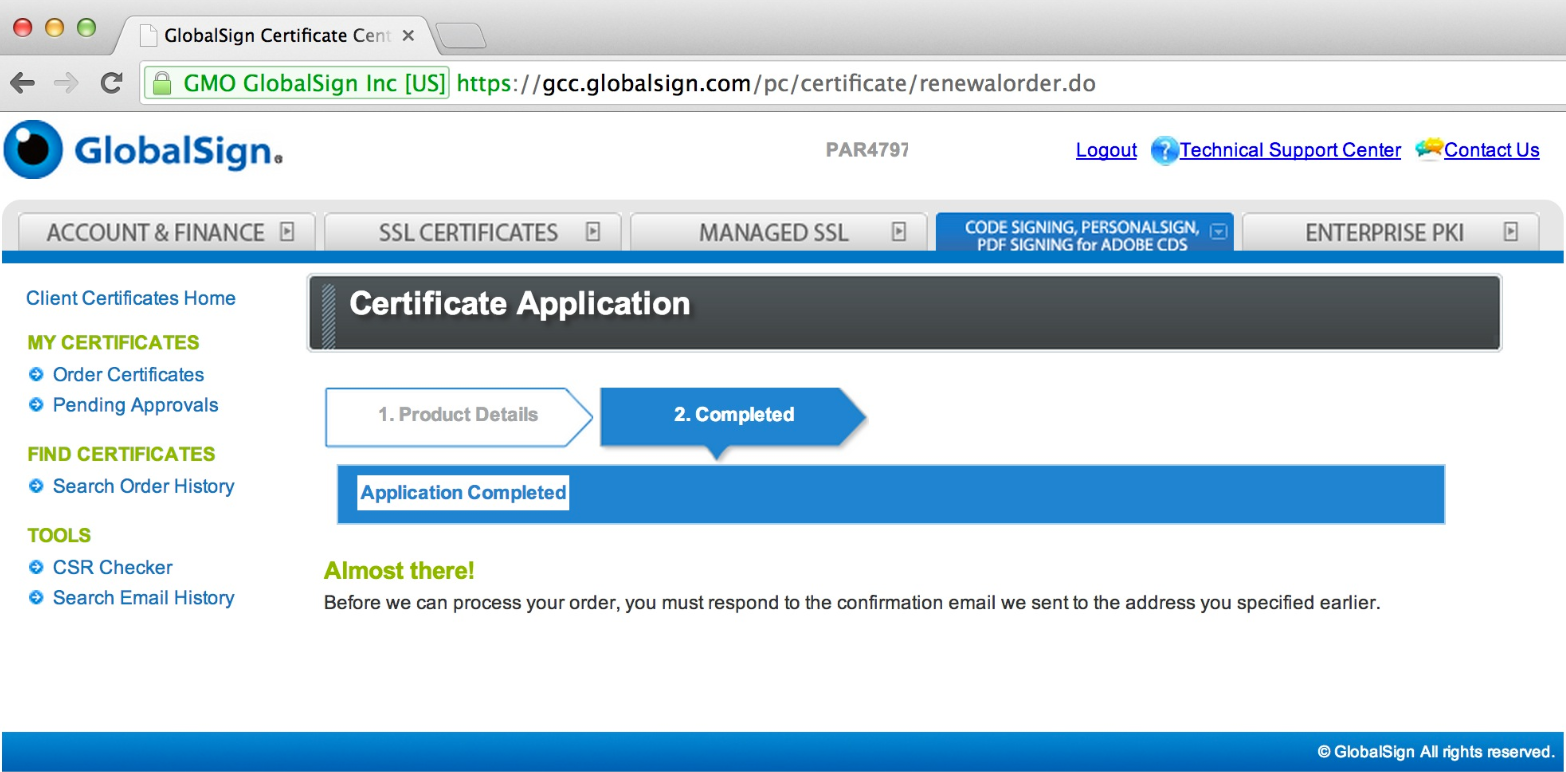 Once you have approved the order the certificate will be ready for download once it has gone through the vetting process. This varies depending on the type of certificate you have ordered, typically anywhere from immediately up to three business days. Once the vetting process has been completed you will receive an email notifying you that your certificate is ready for pickup.

To download your renewed certificate please follow the Download Your Certificate instructions.